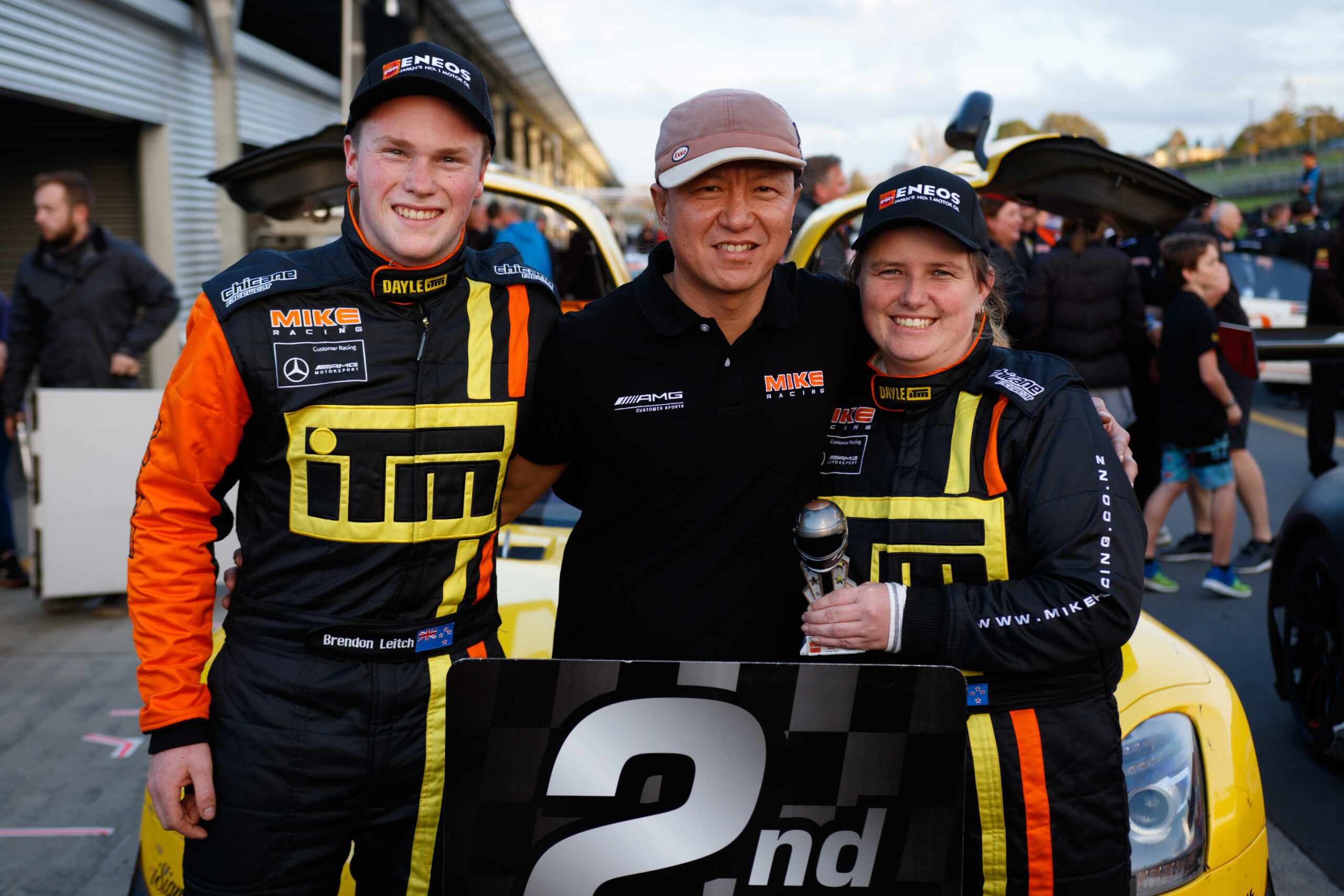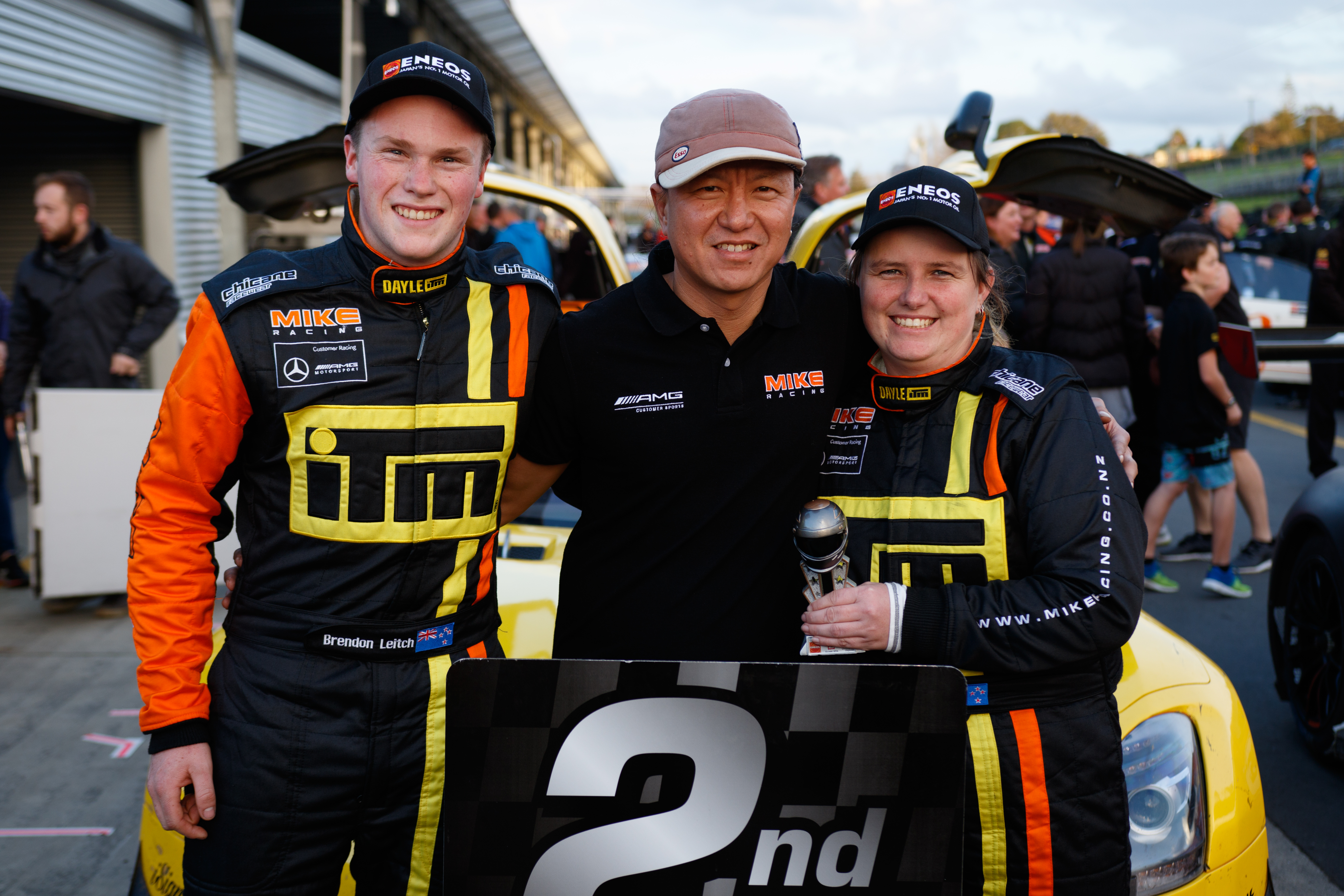 Brendon Leitch and Christina Orr-West have leapt up the ENEOS North Island Endurance Series points standings with one round to go
The pair provisionally sit second in the Three Hour Series behind round one winners John McIntyre and Simon Gilbertson. It's understood as little as five points separate the teams heading into the final, which takes place at Manfeild Circuit Chris Amon in Feilding over July 20–21.
Both Leitch and Orr-West managed to negotiate traffic effectively. Orr-West's stint in particular caught the eye of many with a strong start and a fast first half of the race.
"Christina's stint was bloody good. She had a fantastic drive. I handed the car over [after qualifying] and she sent it." Leitch said.
While he was stoked to get the podium it was a case of what could've been for Leitch.
The Invercargill-born driver got a stellar restart after the final safety car period. He nearly took the lead as he went side-by-side with the sister MIKE Racing Mercedes-Benz SLS AMG GT3 down the front straight.
Leitch said he thought he could've got the lead, but was baulked by traffic and a fuel issue in the dying minutes.
"Big brother [Damon Leitch] gave me a bloody good restart and told me when to go, so I just went for it," Leitch said.
"I cleared all the traffic and I was right up his rear wing and from there I just pushed on as hard as I could. I tried to extract everything that I could out of the car like a sprint car. I just loved it, it was so much fun I was so committed over the mountain.
Leitch backed off with a handful of minutes to go to ensure they made it home on fuel to the finish. Eventually Leitch and Orr-West finished 10 seconds adrift of race winners Reid Harker and Jack Milligan.
It was Harker and Milligan's first win together in only their second outing with the Palmerston North outfit. It was also the first time the team had achieved a 1–2 finish.
For Orr-West, the podium was a step in the right direction after just missing the top three steps at round one.
"Everything went really well," Orr-West said.
"Our driver change wasn't graceful, but it was still quick. We deserved it really. We showed that with a bit of time in the car that we've got the pace."
With a class win under their belt and an overall podium too, Leitch and Orr-West are quietly confident.
The fast and flowing Feilding circuit should suit the GT3 car where they'll be able to utilise the full effect of the wings and slicks. Orr-West said she's looking forward to getting back to her home circuit she knows so well.
"I love that track and I've had a fair few goes on it," she said.
"I like it better than most tracks. It suits my driving and I've had a lot of race wins there too. I'm looking forward to it."
The ENEOS North Island Endurance Series final takes place at Manfeild Circuit Chris Amon, Feilding over July 20–21. For more information visit www.mikeracing.co.nz.
Three Hour Series round two race results, overall top 10 (provisional):
1. Reid Harker/Jack Milligan Edgell 146 laps
2. Brendon Leitch/Christina Orr-West +9.152
3. Glenn Smith/John de Veth +43.857
4. Simon Gilbertson/John McIntyre +1 laps
5. Michael Neville/James Kutia +3 laps
6. Simon Sceats/James Kirkpatrick +6 laps
7. Andre Mortimer/Glen Chappel +14 laps
8. Bryan Symes/Lochlain Fitzgerald-Symes +16 laps
9. Bruce Kett/Shane Johnston +16 laps
10. Stefan Calcott/Shane Drake +17 laps