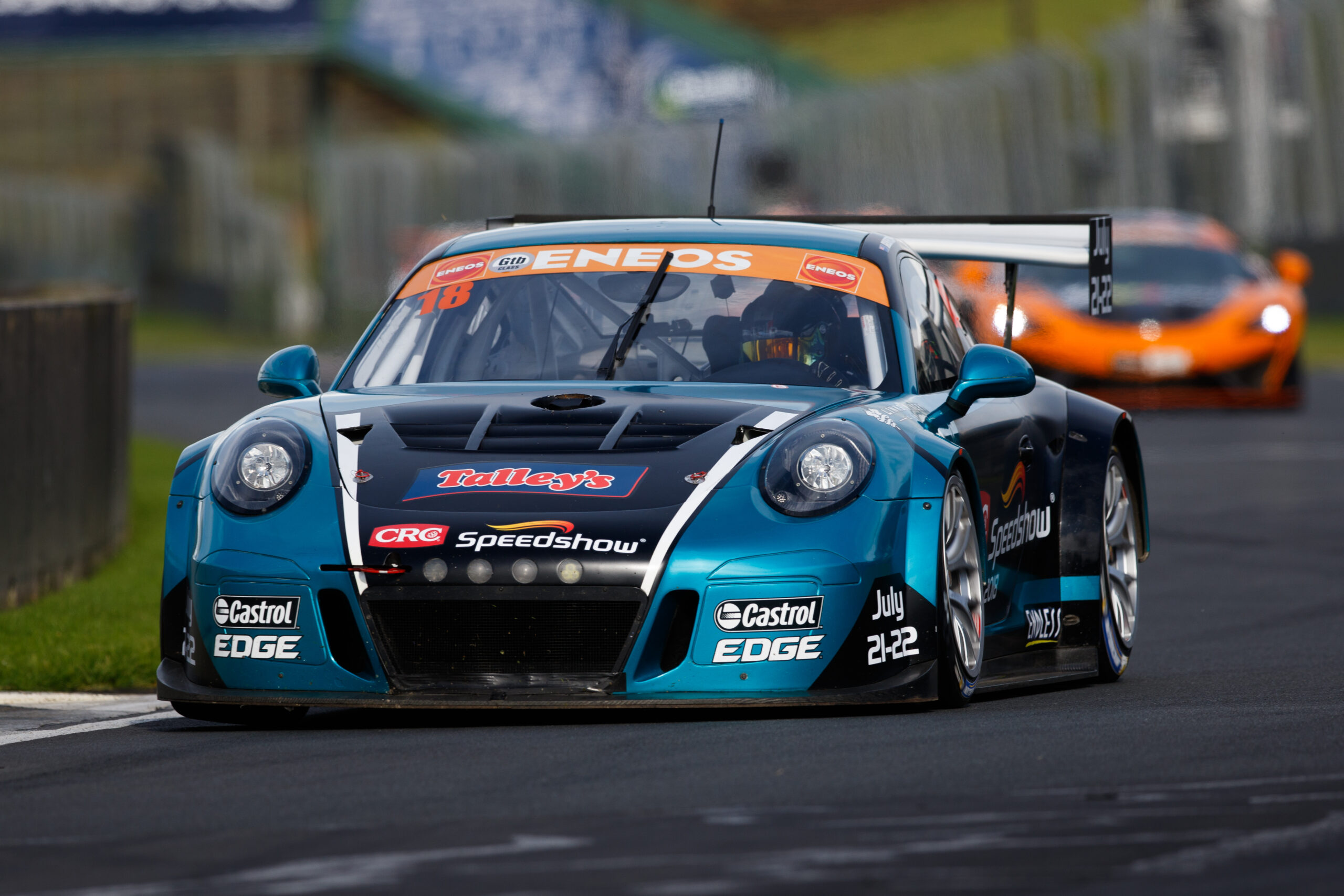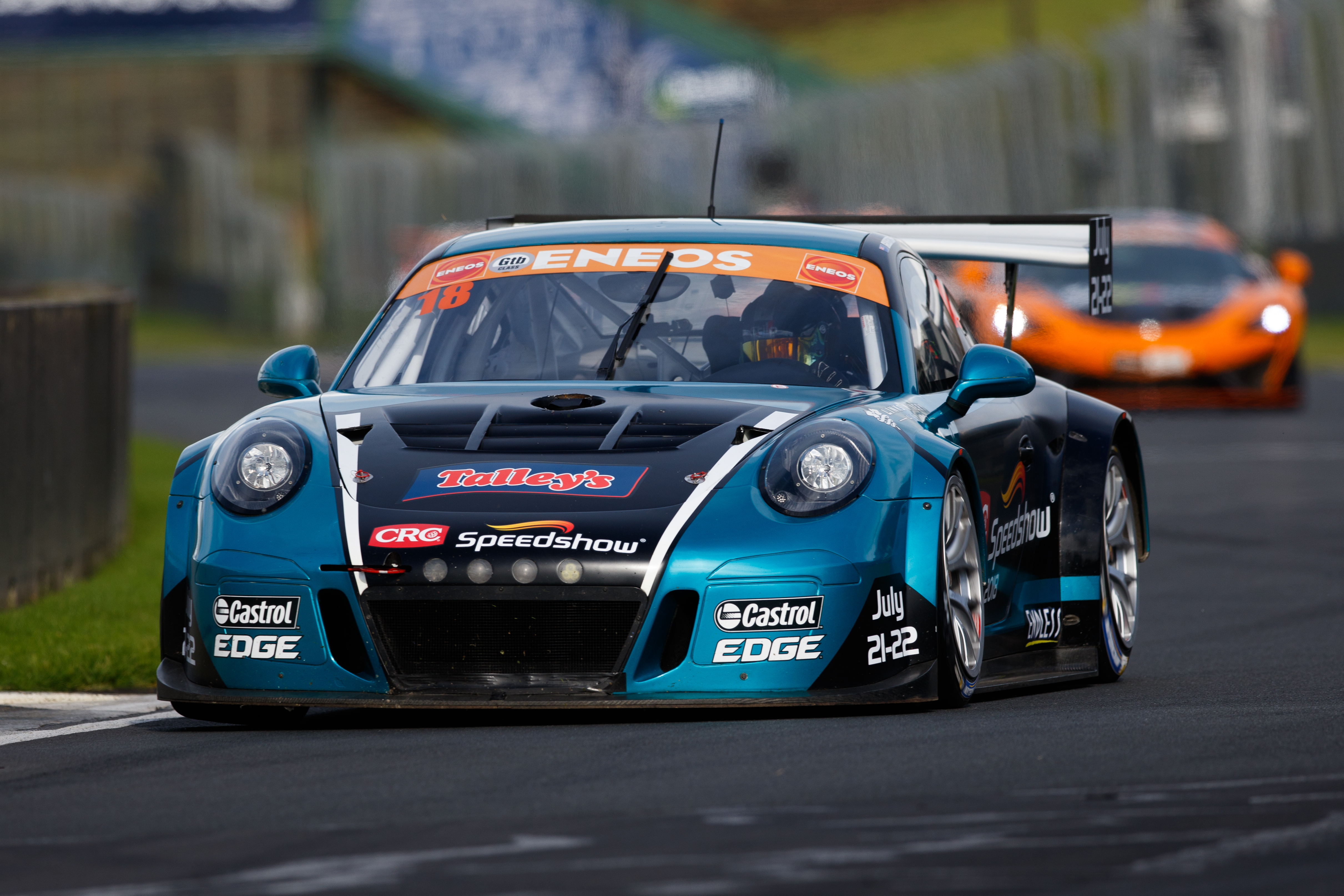 The most competitive ENEOS North Island Endurance Series season to date comes to a close this weekend at Manfeild Circuit Chris Amon.
Any one of the top 16 teams in the title chase are in with a mathematical shot of winning the Three Hour Series.
Atop the overall and GT–B class leaderboard are CRC Speedshow-backed outfit Gilbertson JMR Racing. They hold a slender lead of five points over GT–A pairing Brendon Leitch and Christina Orr-West of ITM MIKE Racing.
McIntyre and Gilbertson rather unexpectedly scored their first win at round one behind the wheel of a Manthey Racing-built Porsche 911 GT3 Cup MR in a race that had been dominated by the V8-powered machinery.
Hampton Downs Motorsport Park hosted a dramatic finish that saw the race finish under red flag conditions following a sudden downpour. After the race ending kerfuffle, McIntyre and Gilbertson had to wait a month to be awarded the win following a post-race protest.
Come round two the pair finished just off the podium in fourth at Pukekohe Park. They know it'll be a hard to win the overall series due to their overall speed disadvantage, but McIntyre is confident they're in with a strong shot of winning the GT–B title.
"We've always really had our eye on the GT–B series rather than the overall, so to be ahead in the overall is a bit of a bonus," McIntyre said.
"We'll be going as hard as we can like we do every weekend to try and win the race. That's always what you go motor racing to do if you can."
Helping them this season is their one-stop strategy. The team have sacrificed outright pace by finding time in the pit lane.
More often than not the team can complete just one pit stop at the halfway mark of each race. Meanwhile, some of the faster FIA GT3 homologated machinery has to pit more than once for fuel.
If it rains that will slow the GT3 cars down too. That's something McIntyre believes could give them a slight edge.
"If it's wet it's going to help us out a little bit, but we know those GT3 cars are very good in the wet as well.
"I would be surprised if the Mercedes' can run Manfeild at full pace on one stop. We can run relatively quick up the front and do that comfortably on one stop.
"With the way the points are those guys still have to finish ahead of us to win it. It's a good place for us to be in."
On the other side of the coin is the ITM MIKE Racing pair of Leitch and Orr-West. It's their first season in the North Island Endurance Series together behind the wheel of their Mercedes-Benz AMG SLS GT3.
While they've not won a race this season, the pair were second in a MIKE Racing 1–2 finish at Pukekohe Park.
With their performance getting better each round, Leitch said he's confident they can take out the title. To do that though they have to finish ahead of Gilbertson and McIntyre.
"I think there's a very good chance that we could win the series there," Leitch said.
"I think it will be mega if we win the title. It was a pretty rocky first round to say the least. At the last round we shut down all the naysayers. It was really good to show everyone what we're capable of.
"We've put out heads together and we can get the job done."
The fast and flowing nature of the Feilding facility will suit the high downforce GT3 machinery.
Manfeild has been host to some of Leitch's career highs and lows. Leitch suffered his biggest crash to date at the New Zealand Grand Prix meeting in 2016, but earlier this year managed to bounce back and win in what was the second to last race of the season.
"I won the last time I was there and got close to being on the podium at the New Zealand Grand Prix as well, so it's a good track for me and Christina loves it as well.
"We've got a very good chance of putting it at the right end of the field and exactly where we need to be to try and clinch the title."
While most of the attention will be on the overall title fight there are class battles to be sorted. Titles for GT–A, GT–B, Class One, Two and Three are all to be decided across the One and Three Hour Series' this weekend.
The closest battle in the field will see Bruce Kett and Shane Johnson go up against Andre Mortimer and Glen Chappel for Class One honours in the Three Hour. It's a winner takes all in the class with whoever finishing ahead taking the win.
The ENEOS North Island Endurance Series concludes at Manfeild Circuit Chris Amon over July 20–21.
ENEOS North Island Endurance Series Three Jour overall top 10 points:
1. Simon Gilbertson/John McIntyre  (GT-B) — 177 points
2. Christina Orr West/Brendon Leitch (GT-A)  — 172
3. Glenn Smith/John De Veth (GT-A) — 162
4. Michael Neville/James Kutia (GT-B) — 152
5. Simon Sceats/James Kirkpatrick (GT-B) — 146
6. Bryan Symes/Lochlainn Fitzgerald-Symes (Class 2) —132
7. Bruce Kett/Shane Johnson (Class 1) —131
8. Andre Mortimer/Glen Chappel (Class 1) —129
9. Todd Murphy/Andy Greenslade (GT-B) — 120
10. Reid Harker/Jack Milligan (GT-A) — 115