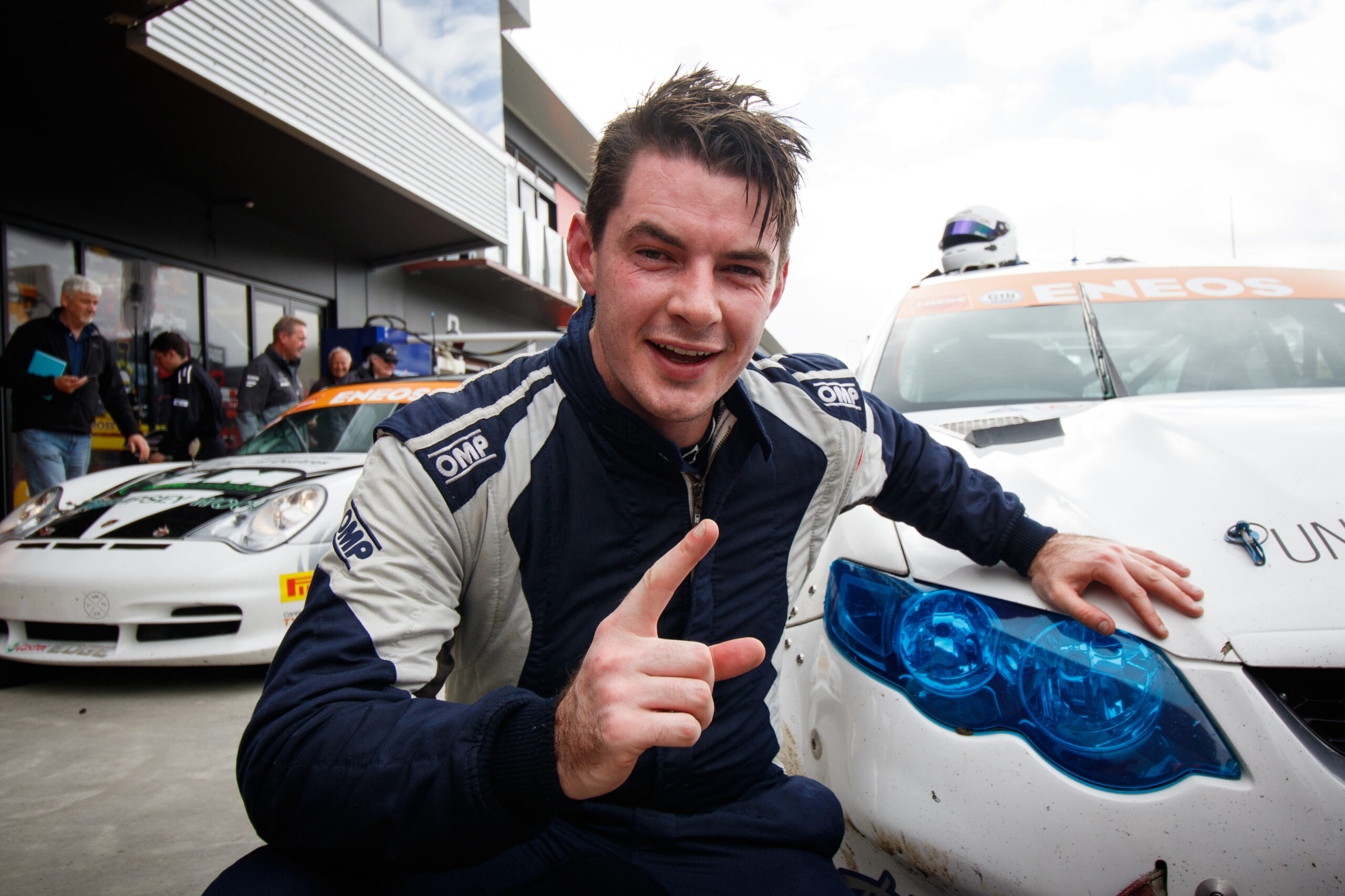 John Midgley cruised home to win the One Hour race in the ENEOS North Island Endurance Series opener despite some suffering.
Held at Hampton Downs Motorsport Park in the North Waikato, Midgley took pole position and the race win in changeable conditions.
Main rival Anthony Leighs in his Porsche 911 991 GT3 Cup car finished a lap off the lead in second, but could've been a contender.
A lap one spin while chasing Midgley dropped him to the back of the pack. To add insult to injury, that was followed up by a drive-through penalty 10 laps from the finish for speeding in the pit lane.
Midgley drove a faultless race and was consistently a second quicker than Leighs throughout the One Hour affair.
It wasn't without trying, however, as Midgley had to push through the race with a sore shoulder. The Aucklander had surgery on his shoulder three days after the New Zealand Endurance Championship earlier this year for an injury he's had for several years.
"I'm really wrapped with how the day went," Midgley said.
"As I've said to a few people, my shoulder had been a bit of a concern but it held up okay. I got through that fine and drove the car a little bit differently through the left hand corners with my right shoulder being a bit of an issue."
Midgley said he was happy with how the race panned out. With Leighs having to fight through the field Midgley was unchallenged.
"The car drove flawlessly, I was pretty surprised to be honest. We just rolled it out of the trailed on Friday night to give it a quick check, put some fuel in it and got first. I'm pretty stoked.
"Luckily I managed to build a bit of a gap. Anthony Leighs looped it on the first lap at the hairpin so I had a big gap, then the safety car came out, then after that I had Shaun Varney on my tail.
"It went green and I managed to build a nice gap and held the pace and gap where I wanted it."
Two rounds remain in the ENEOS North Island Endurance Series with Pukekohe Park the next stop on the calendar.
Midgley heads to the South Auckland circuit knowing that form is on his side. However, the last time he was there he missed out on the win as Shane Hodgson took victory in the New Zealand Endurance Championship earlier this year.
"It would be awesome again to win it," he said.
"Pukekohe is probably my favourite track in New Zealand. The car goes pretty good there.
"At the New Zealand Endurance Championship we got found out a bit with a lack of horsepower, but we'll give it a good crack again and hopefully get another win."
The next round of the ENEOS North Island Endurance Series takes place at South Auckland's Pukekohe Park over June 15-16. For more information visit nierdc.com or the North Island Endurance Series Facebook page.
One Hour race results, overall top 10:
1. John Midgley — 51 laps
2. Anthony Leights + 1 lap
3.Cameron McCormack + 1 lap
4. Bernard Verryt + 2 laps
5. Grant Aitken + 2 laps
6. Shaun Varney + 3 laps
7. Charles Rollo + 3 laps
8. Matty Penney + 4 laps
9. Jame Stoneman + 5 laps
10. Callum Hedge + 5 laps