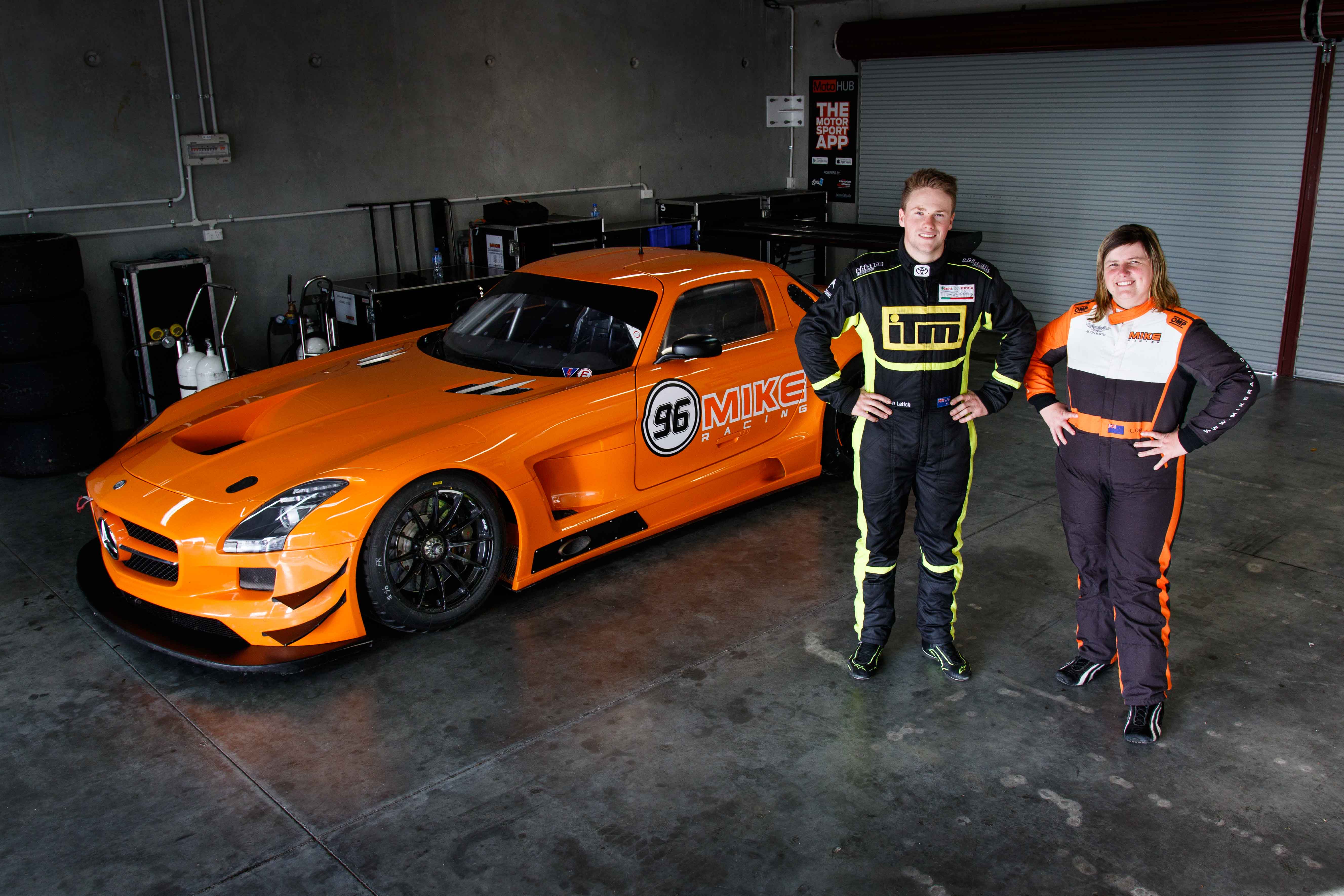 Two familiar names in New Zealand motor racing are set to join forces with the country's newest sports car racing outfit ITM MIKE Racing.
22-year-old Brendon Leitch and 30-year-old Christina Orr-West will race an ITM-backed Mercedes-Benz SLS AMG GT3 in this year's North and South Island Endurance Series.
Started by Mike Chua in 2008, the racing team moved from Malaysia to New Zealand last year. MIKE Racing began competing in the two respective endurance series' with Orr-West alongside up-and-coming BNT V8s competitor Chelsea Herbert in an Aston Martin Vantage GT4.
Now Chua and the team are set to step up their campaign with a full season in the SLS.
Leitch and Orr-West come from somewhat similar racing backgrounds. The pair have both raced in the Castrol Toyota Racing Series and made ventures to the United States to chase their IndyCar Series dream.
With a few more years of racing experience under her belt, Orr-West has most recently raced in the BNT V8s, Bathurst 12 Hour and the SsangYong Racing Series.
Coming from the ute series, in which she's finished third on two occasions, Orr-West said it's a bit of a shock to the system jumping into the SLS.
Having raced in single seaters before; she said it's a bit of a throwback to her early racing days.
"Basically it's back to aerodynamic wings and slicks racing," she said.
"It's like going back to my single seater days, it's very much like that. It's definitely affected by the wind and track temperature.
"It's different but the same. I guess I just don't feel the wind in my hair like I used to. It does feel familiar so I'm not scared of it, that's the main thing."
Being an FIA GT3 homologated car and in the highest class, MIKE Racing come into this season as prospective front runners. With that in mind Orr-West said she's got her eyes on the front of the grid.
"I'd be happy if we finished in the top six and gave the Audi competitors a good run for their money. Obviously we want to beat the Carter's Tyres Mercedes as well."
Leitch comes to the team with plenty of recent racing experience. Last year he raced in the United States Formula 4 Championship and this year contested his fifth season of the Toyota Racing Series.
While the SLS is a new car to Leitch, he's had experience in sports car racing before with a drive in the Highlands 101 alongside brother Damon Leitch in 2014.
"It's interesting to drive," Leitch said.
"The biggest thing I find is that the braking zones are a lot longer. But it's actually quite easy to drive and you can see why a lot of drivers like to jump in them and go reasonably fast. It's quite a comfortable and rewarding car to drive.
"It's obviously just as easy to get it wrong as it is to get it right, but it's fun when you do get it right."
Leitch said he's looking forward to the season ahead.
"I'm really excited to get behind the wheel of the SLS and I'm very thankful to Deb Day and the team at ITM for all their support. It's pretty cool that I've got Christina as my co-pilot. It should be a good season, I'm looking forward to it."
Leitch and Orr-West both got the chance to test the car at Manfeild Circuit Chris Amon and Hampton Downs Motorsport Park recently, so they have an idea of what's ahead.
With the first round of the ENEOS North Island Endurance Series fast approaching Leitch is confident they have the pace to be up the pointy end of the field.
"At this stage I think we've got a really good package," Leitch said.
"Between myself and Christina I think with a lot of consistency we can be at the right end of the field at the end of the race and hopefully be challenging for the win.
"There's no I in team in this part of the sport, so we're working together and really trying to maximise everyone as a team to make sure you get across the start line and the finish line."
The team will reveal their full ITM MIKE Racing livery later this week.
Their campaign begins at Hampton Downs Motorsport Park over May 18–19 for the ENEOS North Island Endurance Series. For more information visit mikeracing.co.nz.
ENEOS North Island Endurance Series calendar:
Round 1: North Waikato – Hampton Downs – 18-19 May 2018
Round 2: South Auckland – Pukekohe Park – 15-16 June 2018
Round 3: Feilding – Manfeild Circuit Chris Amon – 20-21 July 2018  
Carter's Tyres South Island Endurance Series calendar: 
Round 1: Invercargill – Tertonga Park – 14-15 September 2018
Round 2: Christchurch – Mike Pero Motorsport Park – 28-29 September 2018
Round 3: Timaru – Levels Raceway – 12-13 October 2018