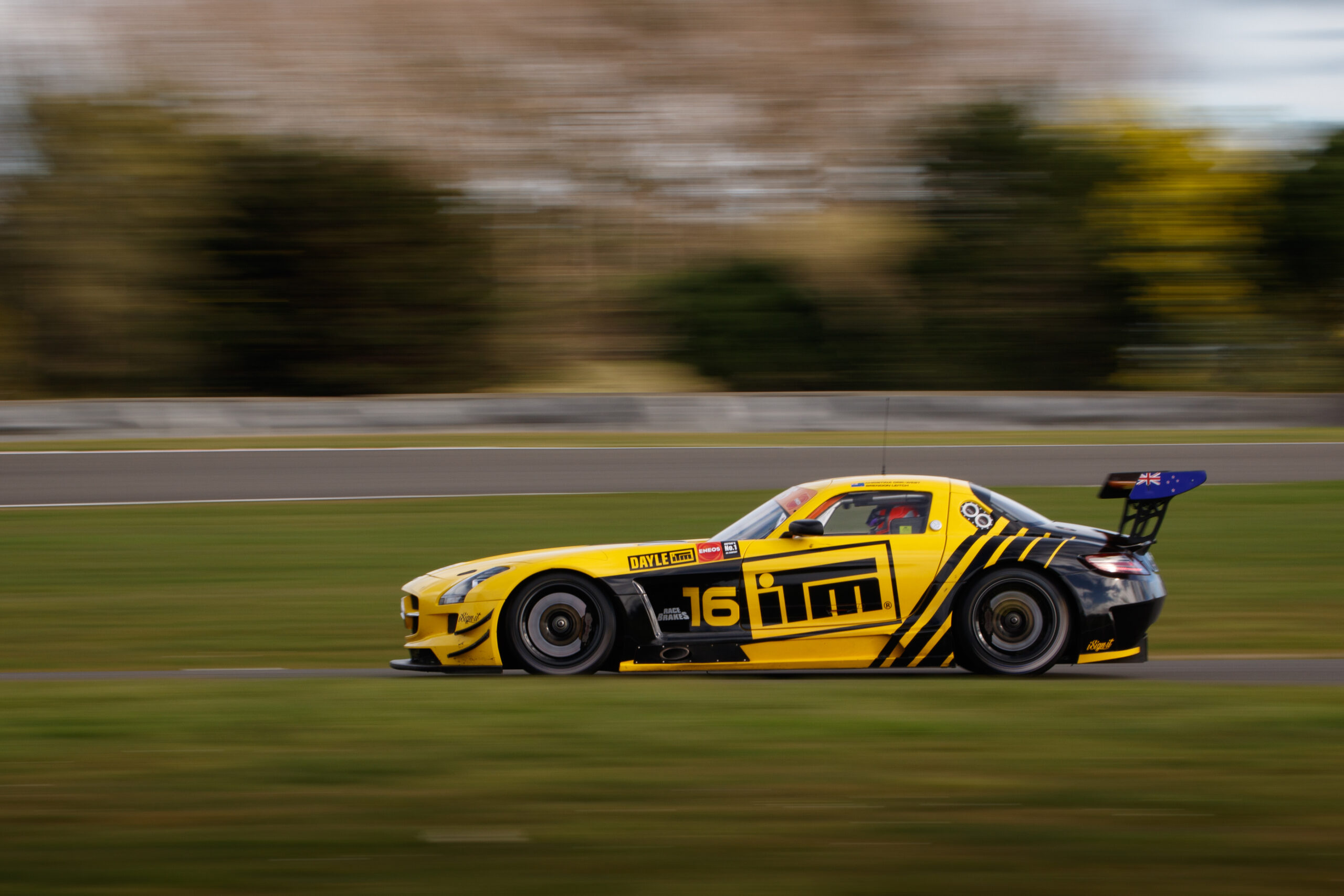 Brendon Leitch and Christina Orr-West say they can't be too disappointed with their efforts this season despite missing out on an overall title.
This year Orr-West, who hails from Whakatane, stepped up to the GT–A division of the ENEOS North Island Endurance Series. She was joined by long-time Castrol Toyota Racing Series pilot and series debutant Brendon Leitch.
The pair were in contention to win the overall title in only their first attempt, but narrowly missed out after John McIntyre and Simon Gilbertson finished second in the season finale.
However, their third place finish at Manfeild Circuit Chris Amon did cement GT–A class honours for the pair.
It was an up and down seasons for the class debutants, who made significant improvements across the three-round series in their Mercedes-Benz SLS AMG GT3.
Southland-born driver Leitch said he was happy to take home second place in the knowledge that they have more time to find.
"I think we've done pretty damn well considering we've never driven a GT3 car ever before, let alone something with 700hp," he said.
"With second in the championship we can't complain too much really. We beat a lot of the other quick cars out there so it's awesome to bring the car home up the front.
"It's a shame we couldn't get the win but that's racing—onto the next one."
In the space of three rounds, Orr-West believes she's come a long way not only in her own driving ability but in fitness too.
"Last weekend obviously showed that all my hours at the gym and constantly watching what I'm eating is paying off," she said.
"I honestly think my fitness has gone up 10-fold. When I hopped out they said I did an hour and 20 minutes and I felt like I could do another stint. I wasn't huffing and puffing by any means."
Orr-West began the race and by the end of her stint she knew the tyres were in trouble. Ultimately those fears would come back to haunt them as Leitch suffered with the same tyre issues late in the race.
"I could feel the tyres starting to grain and lose grip in certain corners," she said.
"I tried radioing in about it but I had radio problems."
Leitch came into the endurance series having only made fleeting appearances in previous longform events. He was buoyed by his own pace, but said they were lucky to bring their car home having suffered with severe tyre degradation late in the three-hour race.
"Christina brought the car in after her stint with a 40-second lead, so she couldn't have done any better if she had tried," Leitch said.
"It's just a shame we couldn't bring it home in front. I feel like I must've pushed too hard too early on in the stint.
"I came in at the end of the race with cables hanging off the tyres. I think we did well to bring the thing home let alone on the podium."
The pair head South for a reduced campaign in the Carter's Tyres South Island Endurance Series before they take on the New Zealand Endurance Championship.
Highlands Motorsport Park will play host to the top 40 cars across the North and South Island Endurance Series' in both the One and Three Hour Series for the national final.
It's an event that Leitch said he's looking forward to having done countless laps around the circuit where he's previously worked as a driver trainer.
"It's a track where I have miles more experience than anybody else," Leitch said.
"I've literally done 15,000 laps around that place. It's an awesome circuit with high commitment. These cars are just so well suited to it.
"Obviously we need to get through the other three races before we get there but I definitely think we're in with a chance. We're learning every single time we get in the car.
"Next time we'll try and blitz them."
ENEOS North Island Endurance Series, overall points:
1. John McIntyre/Simon Gilbertson – 267 points
2. Brendon Leitch/Christina Orr-West — 258
3. Glenn Smith/John de Veth — 257
ENEOS North Island Endurance Series, GT–A points:
1. Brendon Leitch/Christina Orr-West —275 points
2. Glenn Smith/John de Veth — 267
3. Reid Harker/Jack Milligan — 135
ENEOS North Island Endurance Series, GT–B points:
1. John McInytre/Simon Gilbertson — 285 points
2. Todd Murphy/Andy/Derrin Greenslade — 237
3. Nick Chester/Cameron Jones — 196
ENEOS North Island Endurance Series, Class One points:
1. Bruce Kett/Shane Johnson — 280 points
2. Andre Mortimer/Glen Chappel — 205
3. Wayne Leech/Paul Burborough — 196
ENEOS North Island Endurance Series, Class Two points: 
1. Bryan Symes/Lochlain Fitzgerald-Symes — 285 points
2. Shane Holldan/Thomas Sutton — 270
3. Shane Helms/Rob Bolland — 96
ENEOS North Island Endurance Series, Class Three points:
1. Stefan Calcott/Rob Young — 276 points
2. Marty McCullough/Ian Foster — 263
3. Matt McCullough/Liam Foster — 262