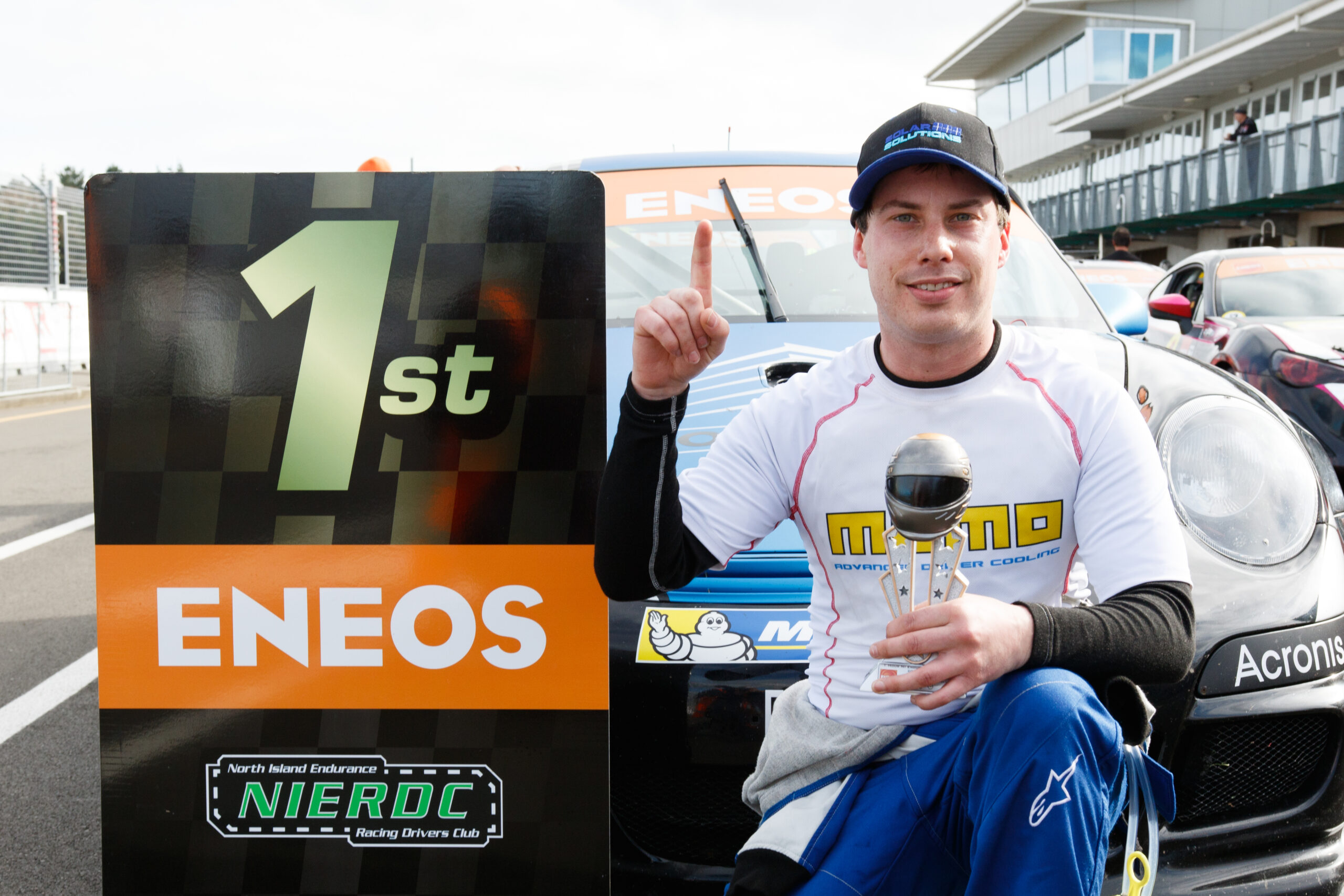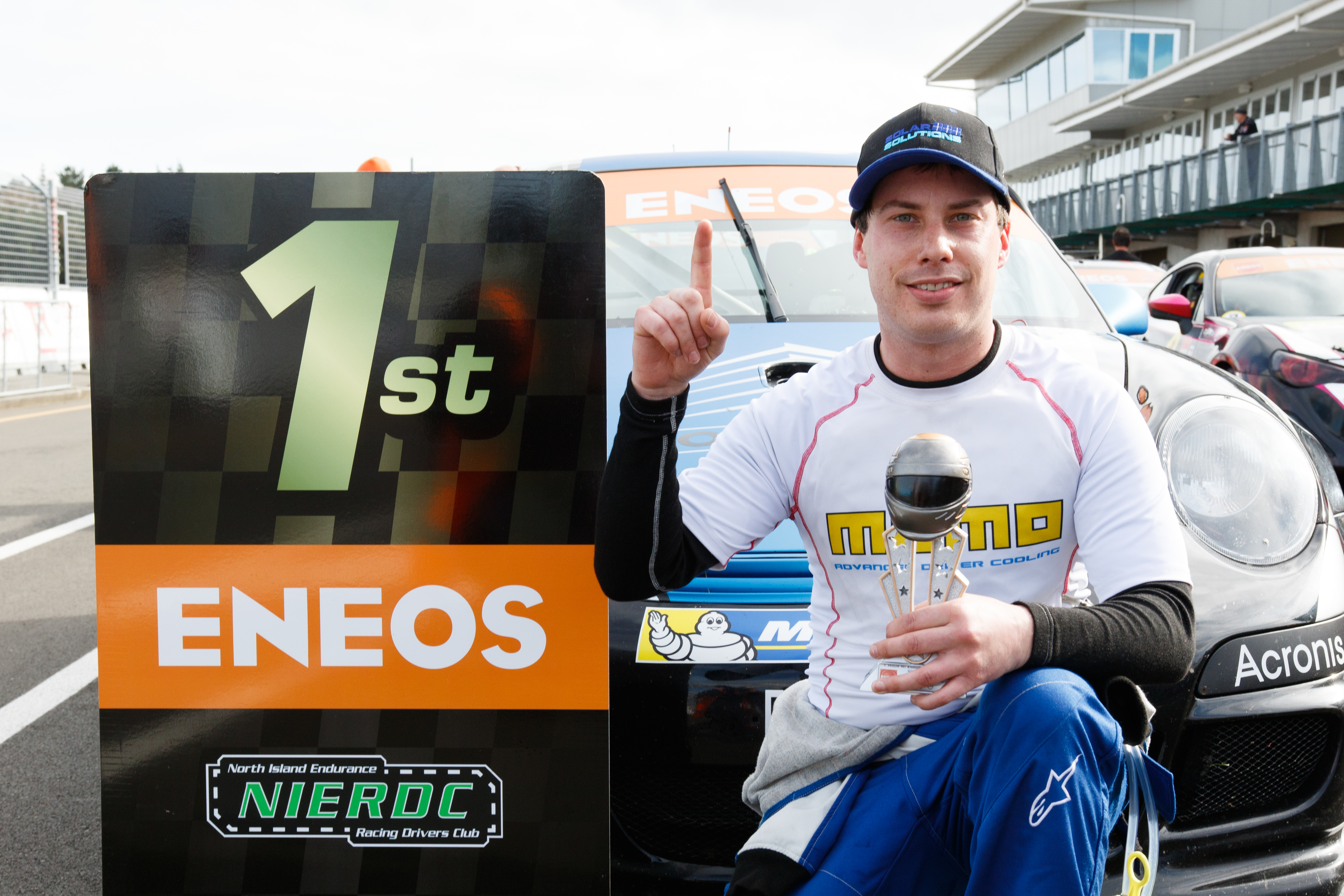 Victory in the final race of the ENEOS North Island Endurance Series has given Jarrod Owens the needed push to go overseas.
Owens took out overall honours in the One Hour Series final at Manfeild Circuit Chris Amon last weekend. Despite having never driven at Feilding facility he managed to keep out of trouble and take home the win in his Porsche 911 GT3 Cup S.
Next on his agenda is the New Zealand Endurance Championship, which takes place at Highlands Motorsport Park later this year. Following that, he wants to take his car to Mount Panorama, Bathurst to race on the support card of the Hi-Tec Oils Bathurst 6 Hour.
"I want to have a crack at winning the New Zealand Endurance Championship—I won that in 2017 and I'd love to do that again," he said.
"I'd also like to take the car over to Bathurst for the March event next year. They have three one-hour races. It's only a few laps, but Bathurst is so big it ends up being an hour long!"
The final race of the North Island Endurance Series looked likely to fall the way of Simon McLennan in his ex-V8 SuperTourer Holden Commodore VE. That was until he suffered a front left puncture that forced him to pit for repairs and a new set of slicks.
Having established a sizeable lead, Owens wasn't even aware that McLennan had encountered trouble until the safety car came out.
"I sort of tried to forget about it. The boys hadn't said anything about where I was at, so I just didn't ask and kept pushing on because I knew that his car was fast," he said.
"I didn't know how far back he was. I knew I had to go 110 per cent otherwise he was going to catch me."
From there, Owens had to battle to keep position with a hard charging Anthony Leighs in hot pursuit.
"The tyres started to go off at that stage of the race and I was struggling with front and rear grip. Whether he had some better lines or not, there were points where I was a bit faster and he was a bit faster.
"We ended up being dead-even, but it was good fun."
Ultimately Owens ended up leading a Porsche 1–2–3 finish ahead of Leighs and third placed driver Sean Kirkpatrick a lap back of the leaders. Having led the race early on, McLennan eventually went on to finish fourth behind Nick Chester and John de Veth.
The One Hour Series title was won by Porsche 911 997 GT3 Cup driver Cameron McCormack who also won the Class One title. Grant Aitken finished second overall in his Porsche Cayman GT4 with Matt Griffin third.
ENEOS North Island Endurace Series, overall One Hour Series points:
1. Cameron McCormack – 224 points
2. Grant Aitken — 219
3. Matt Griffin — 206
ENEOS North Island Endurance Series, GT–B points:
1. Grant Aitken —243 points
2. Anthony Leighs — 180
3. John Midgley — 105
ENEOS North Island Endurance Series, Class One points:
1. Cameron McCormack — 271 points
2. Matt Griffin — 246
3. Jake Stoneman — 246
ENEOS North Island Endurance Series, Class Two points: 
1. Charles Rollo — 271 points
2. Matt Penny — 267
3. Marco Schelp — 106
ENEOS North Island Endurance Series, Class Three points:
1. Arran Crighton — 271 points
2. Callum Hedge — 267
3. Sam Wright — 237