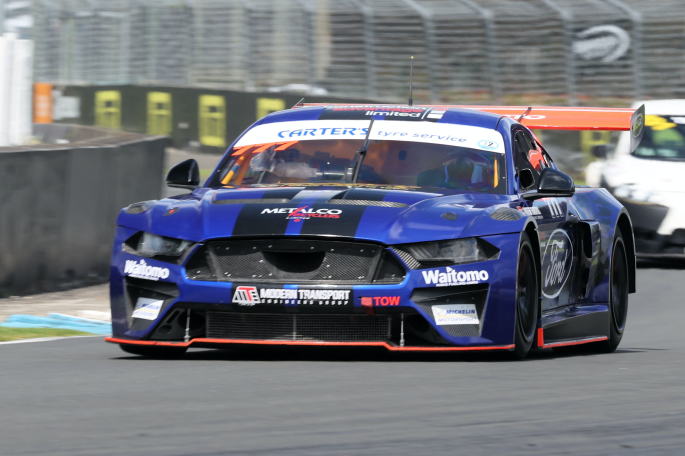 Sam Collins (Marc II Mustang V8) has driven to pole position in this morning's qualifying session of the Golden Homes North Island Endurance Series season-opening One Hour race at Pukekohe.
The defending champion will have familiar company alongside, Marco Schelp (BMW Z4 GT3) qualifying second and just three tenths of a second off the pace.
John Midgley (Ford Falcon FG V8ST) rounds out the top three, only narrowly pipped by Schlep with Todd Bawden (Ferrari 488 Challenge) close behind in fourth.
Rhys Gould (Hyundai i30N TCR) leads the charge in the Class 4 & 5 battle, a 1min 07.817 putting him right up there with the Class 3 runners ahead.
It was Schelp and Collins who were first to break the 1min 06sec barrier, a 1min 05.340 after just five minutes of run-time putting Schlep in top spot early.
Collins then went on to better this shortly after, a quick 1min 04.799 showing the Marc II V8 Mustang meant business.
Midgley was another who made ground in the Class 2 & 3 field early, briefly bettering Schleps time before the ex-works BMW quickly moved back into second, only behind Collins.
Schelp and Midgley continued to improve their times as the session progressed, both threatening to break into the 1min 04s with the BMW Z4 GT3 setting a low 1min 05 mid-way through the session.
Christina Orr-West (Mercedes AMG GT4) was another to put some solid track time in during qualifying, making quick progress and moving into the top six.
With some solid times set by the front-runners early on, a number of competitors returned to the lane happy with their times.
This included Collins, Schelp and Midgley who occupied the top three positions. Todd Bawden put in a few extra laps in his new Ferrari 488 Challenge before returning to the lane as the end of the session grew near, qualifying fourth overall ahead of Nick Ross's quick Nissan Altima L33 TLX.
Several Class 4 & 5 runners who made the most of a quiet track, Dane Fisher (Suzuki Swift) putting in a few extra laps alongside two Ssanyong Utes in the field to make steady gains.
The session finished with Collins holding pole from his early flyer, Schlep taking second over Midgley by the barest of margins.
Gould was fastest of the Class 4 & 5 field, an impressive 1min 07.817sec putting him into top spot of those respective classes.
NIERDC Round 1 One Hour Starting Grid
| | | | |
| --- | --- | --- | --- |
| Position | Driver | Time | Class |
| Pole | Sam Collins | 1.04.799 | 2&3 |
| 2nd | Marco Schelp | 1.05.111 | 2&3 |
| 3rd | John Midgley | 1.05.382 | 2&3 |
| 4th | Todd Bawden | 1.05.940 | 2&3 |
| 5th | Nick Ross | 1.06.547 | 2&3 |
| 6th | Christina Orr-West | 1.07.419 | 2&3 |
| 7th | Rhys Gould | 1.07.817 | 4&5 |
| 8th | Shaun Varney | 1.07.886 | 2&3 |
| 9th | Kris Bostock | 1.08.637 | 2&3 |
| 10th | Charles Rollo | 1.10.733 | 4&5 |
| 11th | Scott Smith | 1.13.811 | 4&5 |
| 12th | Adam Worsnop | 1.21.201 | 4&5 |
| 13th | Rick Cooper | 1.21.993 | 4&5 |
| 14th | Dane Fisher | 1.26.771 | 4&5 |
Header Image: Collins was the only competitor to go under 1:05 to take pole. Image: Neville Bailey