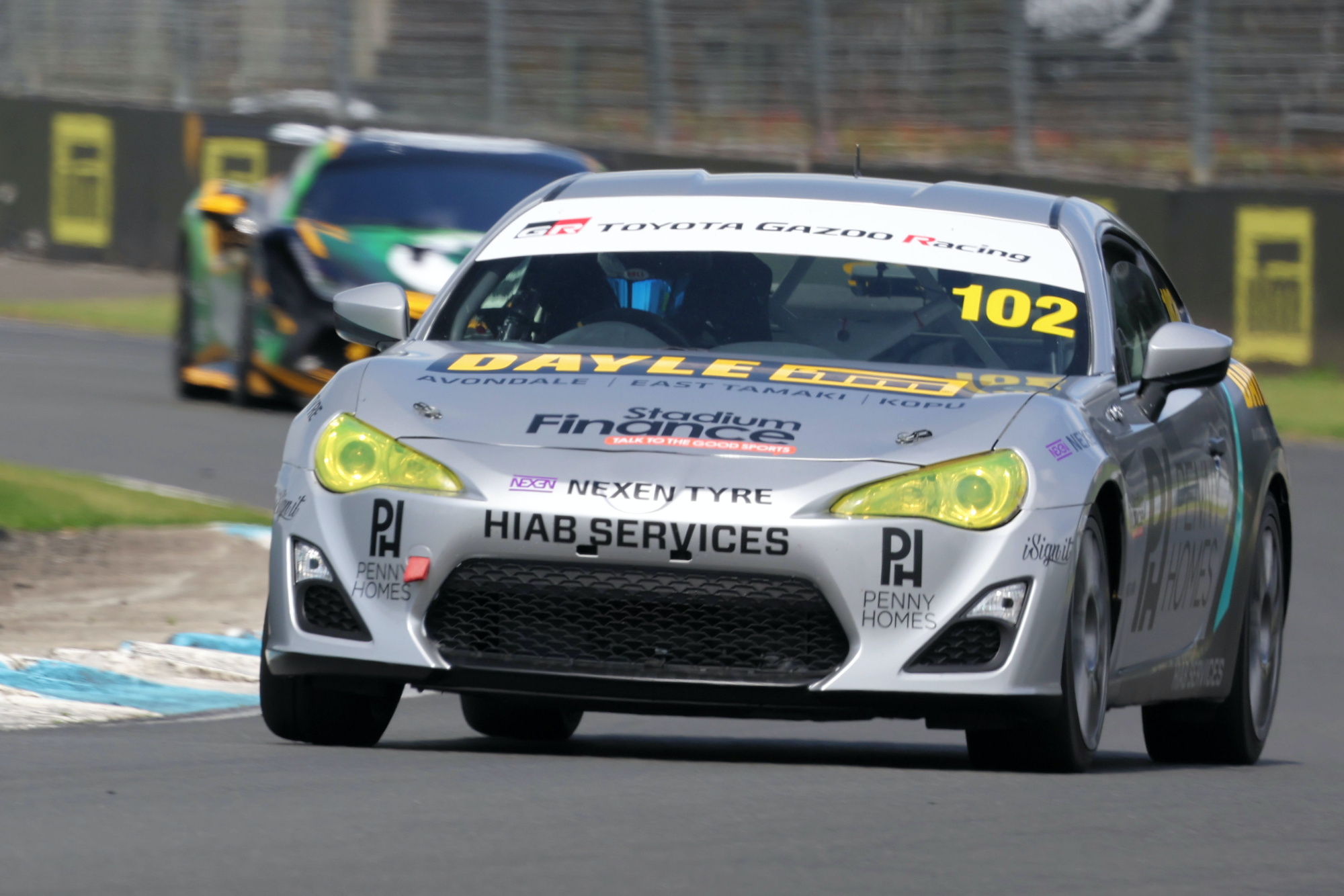 A tight qualifying session for the Golden Homes North Island Endurance Series 2-Hour race at Pukekohe has seen David Whitburn and Graham Ball (BMW E92) take pole position.
Less than .1 of a second separated the top three just within the 1min 13sec breakout time.
John Thomson and Oliver Shepherd (BMW 135i) bouncing back from yesterday's broken drive shaft to take second ahead of the Brent Hay/Antony Te Rito pairing who narrowly miss starting on the front row, finishing just .004 seconds behind Thomson and Shepherd.
Father/son pairing of Brad and Greg Kroef take the grid advantage of a 5-strong V8 Ute contingent and will start from the second row in fourth.
Marco Holtriger (Porsche Cayman 3.4) slotted in between the Kroef's and fellow V8 Utes competitors Simon Ussher and Jake Stoneman to take fifth for this afternoon's enduro, just two tenths separating that trio.
Paul and Alex Fougere make it three V8 Utes in the top seven and are followed closely by the Honda Civic of Layton Hammond and Chris Wall who round out the fourth row.
Thomas Mallard and Dion Pitt emerged on top in the battle between the two Toyota 86s with Cormac Murphy and Clay Richards two spots back in 11th.
It's another V8 Ute separating that duo, being Stu Monteith and Daniel Ludlam who round out the top 10.
The 2-Hour race begins at 3.13pm this afternoon.
NIERDC Round 1 Two Hour Starting Grid
| | | |
| --- | --- | --- |
| Position | Driver | Time |
| Pole | Whitburn/Ball | 1:13.206 |
| 2nd | Thomson/Shepherd | 1:13.276 |
| 3rd | Hay/Te Rito | 1:13.280 |
| 4th | Kroef/Kroef | 1:15.080 |
| 5th | Holtrigter | 1:15.193 |
| 6th | Ussher/Stoneman | 1:15.279 |
| 7th | Fougere/Fougere | 1:17.469 |
| 8th | Wall/Hammond | 1:17.528 |
| 9th | Mallard/Pitt | 1:18.496 |
| 10th | Monteith/Ludlam | 1:18.722 |
| 11th | Murphy/Richards | 1:18.861 |
| 12th | Cooper/Worsnop | 1:19.697 |
| 13th | Ludlam | 1:19.976 |
| 14th | Duffy | 1:20.057 |
| 15th | Gaines/Gerlach | 1:20.498 |
| 16th | Cooper/Cooper Jnr. | 1:20.652 |
| 17th | Fisher/Steele | 1:25.917 |